Medieval Itineraries: William Wey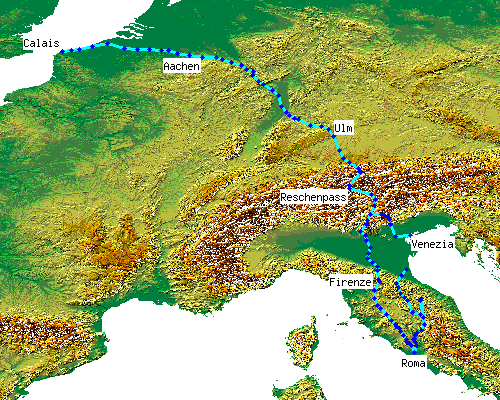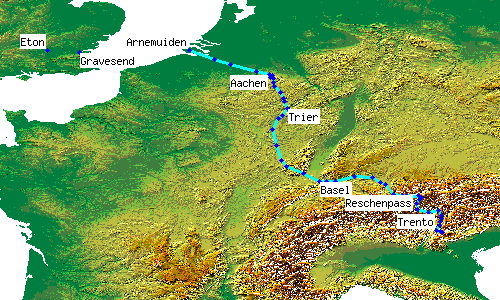 William Wey was a Fellow of Eton College soon after its foundation, and was granted special dispensation by Henry VI to go on lengthy pilgrimages. His account, in Latin, survives as Bodleian MS 565, which was transcribed and published by the Roxburghe Club in 1857 as The Itineraries of William Wey, Fellow of Eton College, to Jerusalem, AD 1458 and AD 1462; and to Saint James of Compostella, AD 1456.
On the pilgrimage to Santiago, Wey left Eton on the 6th calends of April (March 27), arrived Plymouth on the last day of April, sailed May 17, arriving 'Grwne' (Corunna) May 21. He records counting 84 ships in Corunna, of which 32 were English; there were also ships from elsewhere in Britain, Ireland, France, Normandy, and Brittany. On his return journey, after a false start, he sailed June 5, arriving Plymouth June 9. His account lists relics in Padron and Santiago, and the indulgences available in Santiago for this Holy Year, but gives no details of his route in either England or Galicia.
The bulk of his account is concerned with his journeys to the Holy Land, in both of which he travelled overland to Venice - in the first one, via Rome - and then took ship for the Holy Land. Here he does give a detailed list of the places he passed through. Unlike Sigeric or Matthew Paris, who crossed France, he goes through Flanders and Germany, crossing the Alps via the Reschen Pass, much lower than either the Gt St Bernard or Mt Cenis pass in the western Alps. Other pilgrims of the time, particularly from Germany, followed this route; the route from England is also described in another Bodleian MS, Tanner 2, ff.139-40. Because of conflicts, Wey had to alter his route through Germany on the second trip, and go further west. The Roxburghe Club edition's introduction helpfully gives modern equivalents for most of the towns, though a couple are now obscure.
More details
External resources
The Roxburghe Club edn is available on the Gallica website of the French National Library. The list of places with mileages is on pp79-83; modern equivalents of the names are in the editor's introduction, pp.XX-XXV