Medieval Itineraries: Adam of Usk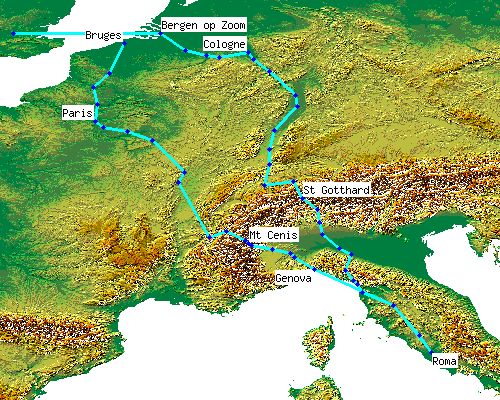 Little is known about the early life of Adam of Usk, though he attended Oxford University where he acquired a doctorate in canon law. He practised this profession in Canterbury.
In 1400 he was involved in a dispute which led to violence and prosecution for affray. So in 1402, at a time of life he describes as 'senecta et senium', he left the country, making his way to Rome, where he found favour with the papacy, becoming papal chaplain. He remained in Rome for several years, but after suffering personally during the exile of Pope Innocent VII to Viterbo in 1405, decided to leave Rome, heading for the Channel in 1406. He was however still persona non grata in England, so had to settle in Bruges, and was only able to land in Wales in 1408, joining Owain Glendwr's uprising. He was finally pardoned in 1411, and spent the rest of his life in some obscurity until his death in 1430.
At his death he left a copy of Higden's Polychronicon, together with his own material covering the years 1377-1421, seemingly intended as a continuation of Higden's work. This material was put in manuscript form towards the middle of the century, and became known as Chronicon Adae de Usk, the Chronicle of Adam of Usk. It is now in the Additional MS in the British Library, no 10,104. The text was transcribed in 1876 by Sir Edward Maunde Thompson, who also provided an English translation. A second edition appeared in 1904, which included the final pages of the Chronicle which had come to light in 1885. A more recent edition, by Chris Given-Wilson, also with an English translation, appeared in 1977.
Although Adam's journey to and from Rome was not a pilgrimage, it does give reasonable details of the route, out by Cologne and the St Gotthard, and back via Mt Cenis and Paris.
More details
spreadsheet | detailed map (49 placemarks)
External resources
The 1904 edition of the Chronicle is available on the Internet Archive; the journey to Rome is on pp74-5 (English translation pp242-3), and the return on pp103-04 (translation pp281-3)