Medieval Itineraries: Annales Stadenses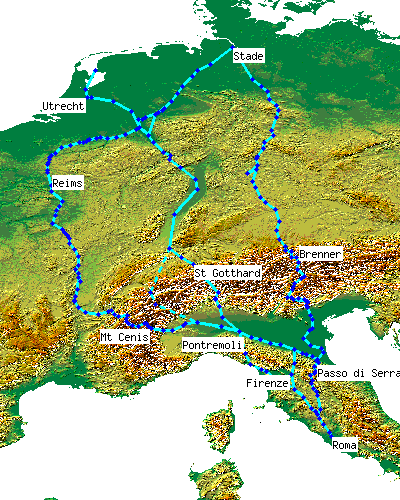 Albert von Stade was a monk in the N German town of Stade, who was abbot of the Benedictine abbey there. He tried to get the monastery to adopt the Cistercian rule but, when this was unsuccessful, he left the abbey and in 1240 joined the monastery of the Conventual Franciscans.
In this year, he started his annals of the town, the Annales Stadenses. This includes detailed instructions for getting from Stade to Rome and back, instructions which take the form of a dialogue between two people called Tirri and Firri. The text suggests a lengthy outward route via Reims to the Seine valley and the Mt Cenis pass, crossing the Appennines via the Passo di Serra. More direct routes are suggested for the return journey: via Milan and the St Gotthard, crossing the Appennines either between Florence and Bologna or via Monte Bardone, and continuing along the Rhine valley; or via Ravenna and the Brenner. A third possibility via the Gt St Bernard is also mentioned.
The Rome itinerary is followed by a description of a sea voyage via Galicia to Jerusalem.
The annals were transcribed as part of Monumenta Germaniae Historica, vol. 16, Annales aevi Suevici, Georg Heinrich Pertz, 1859, pp335-40.
More details
spreadsheet | detailed map (218 placemarks)
External resources