Medieval Itineraries: Nikulas of Munkathvera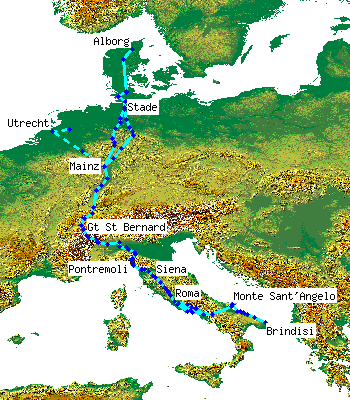 In 1151-4 this Icelandic abbot sailed to Norway and then travelled overland to Rome and on to the Holy Land. His pilgrim diary, known in Icelandic as the leiðarvísir, is in the Arnamagnæan Collection at the University of Copenhagen, manuscript 194, 8, folios 11r-16r. It was transcribed by E.C. Werlauff and published in 1821 as Symbolae ad Geographiam Medii Aevi, with a Latin translation of the Icelandic, and an introduction and notes in Latin.
His route took him from Norway through Denmark and Germany, over the Gt St Bernard, and along the Via Francigena to Rome. He then continued on via Monte Sant'Angelo to Apulia, where he took a ship to the Holy Land. The route lists several variations.
More details
spreadsheet | detailed map (85 placemarks)
External resources
Werlauff's Symbolae ad Geographiam Medii Aevi is available on the septentrionalia site. The journey to Rome starts on p15 (pdf p9), and Werlauff's notes start with n18 on p34 (pdf p19)