Medieval Itineraries: Nompar II de Caumont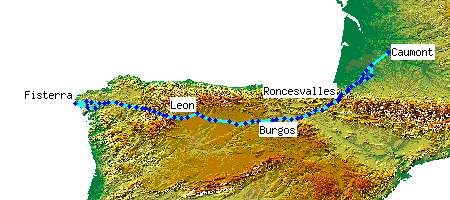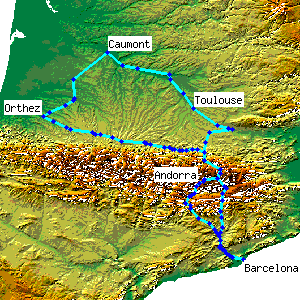 Nompar II de Caumont was an anglophile aristocrat from Caumont-sur-Garonne in Aquitaine, who made a pilgrimage to Santiago and Finisterre in 1417, and one to the Holy Land in 1418-19. His account has come down to us in the Livre Caumont, now in the British Library as Egerton MS 890. This was edited by the Marquis de La Grange, and published in 1858 as the Voyaige du Seigneur de Caumont. It consists of two parts: first the Voyaige d'oultremer en Jhérusalem par le Seigneur de Caumont l'an MCCCCXVIII, and second the Voiatge à St Jaques en Compostelle et à Nostre Dame de Finibus Terre en l'an Mil.CCCC.XVII.
On his trip to the Holy Land, he was intending to travel overland to Venice and enship there but, on meeting his friend the Comte de Foix the other side of Toulouse, was advised because of war to go south instead to Barcelona. His trip south took him by way of the Cerdagne to Montserrat. He returned to Barcelona on the way back, but took a different route via Andorra and Pau to Caumont.
More details
External resources
The Marquis de La Grange edition is available on Gallica. The journey from Caumont to Barcelona is on pp26-32 (images 44-50), the return on pp127-36 (images 146-54). The journey to Compostelle is on pp141-50 (images 159-68).