Medieval Itineraries: Bertrandon de la Broquière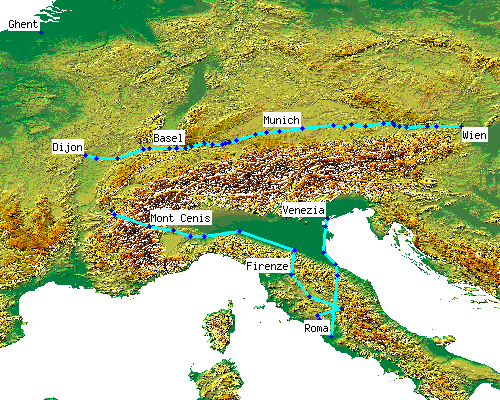 Bertrandon de la Broquière was an esquire and counsellor at the court of Philippe le Bon, duke of Burgundy. In 1432-3 he made a voyage to the Holy Land and wrote about it in Le voyage d'outremer, giving details of his route. He departed from Ghent, crossed the Alps via Mt Cenis, and continued to Rome, where he was received by the pope. He then proceeded to Venice for the sea voyage to the Holy Land. His return journey was overland via Turkey and Constantinople, then the Danube valley to Vienna, where he stayed with the duke, continuing to Munich and Basel, rejoining Philippe le Bon in Dijon. The book was edited by C. Schefer and published by Leroux in 1892. There was an English translation by Thomas Johnes in 1807.
Note: the map above does not include Ghent, as no details are given between there and the Mont du Chat. I have not plotted the return journey east of Vienna. I also assume Spoleto should be on the return leg from Rome.
More details
spreadsheet | detailed map (51 placemarks)
External resources
The Schefer edition is available on the BNF's Gallica site, the portions of the journey in W Europe being on pp2-6 (Gallica images 85-9) and 250-61 (Gallica images 334-45).