Medieval Itineraries: 'Bordeaux pilgrim'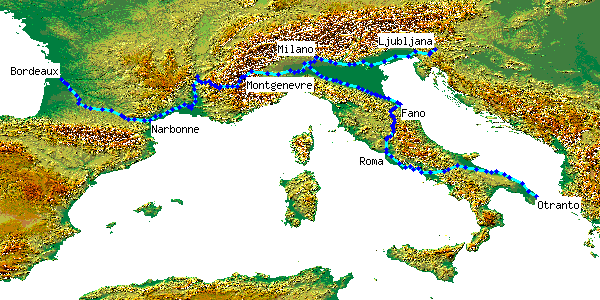 The first (pre-medieval) pilgrim itinerary we have is that of the anonymous pilgrim who journeyed from Bordeaux via Constantinople to the Holy Land, and back from Heraclea via Rome in 333. The account lists the mansiones (overnight halts), the mutationes (places to change or rest horses), and the distance in Roman miles between them. As the Roman Empire was still in place, he simply used the extensive network of Roman roads and, as he appears to be using the official facilities of the Empire, the assumption would seem to be that he was a high-ranking official. However, as he remains anonymous he is known simply as 'the Bordeaux pilgrim'.
Although his route largely corresponds to the roads listed in both the Antonine Itineraries and the Peutinger Table, there are a couple of differences. On the way out, he did not use the road along the Garonne from Bordeaux, but instead used another route via Auch to Toulouse. Similarly, he does not use the direct Via Domitia from Arles to Gap, but instead uses the much longer road via Valence. However, from Gap the route corresponds to the main road over the Montgenevre pass and via Milan to Aquileia and the pass over the Julian Alps. I have not plotted the route beyond Ljubljana. On the way back through Italy he uses the Via Appia, Via Flaminia and Via Aemilia to Milan.
More details
spreadsheet | detailed map (130 placemarks)
External resources
The 1848 Parthey and Pinder edition of the Itinerary is available on Google Books, pp.261-290
See Franciscans of the Holy Land site for English translation of itinerary, plus other information on early pilgrims to the Holy Land