Medieval Itineraries: Barthélemy Bonis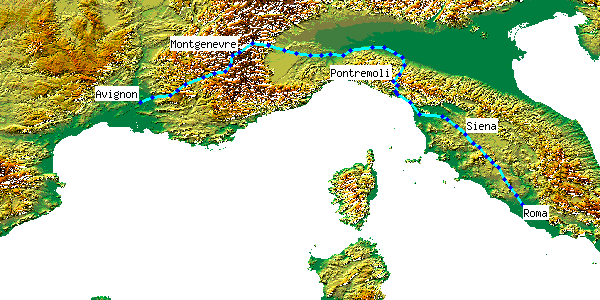 Barthélemy Bonis, together with his brother Géraud, ran a flourishing retail and banking business in the town of Montauban in 14th-century SW France. Their fame is due to the survival of their detailed account books, the Livres de Comptes des Frères Bonis.
The Black Death struck Montauban in 1349 and it seems that Barthélemy lost 2 children to it. He vowed to make a pilgrimage to Rome for the Jubilee Year of 1350, and noted down his horseback route from Avignon via Montgenèvre and the Mons Langobardorum to Rome on a piece of paper which survives, looseleaf in the Livres de Comptes.
The Livres, written in the Occitan of the time, were transcribed in 1890-4 by E Forestié for the Société historique de Gascogne, and the itinerary is reproduced in the editor's introduction together with a translation into modern French (ppxix-xxi). Barthélemy's absence on this journey is mentioned in the appropriate place in the Livres on p315.
Yves Renouard, who discusses the itinerary in his Routes, étapes et vitesse de marche de France à Rome (1962), surmises that Bonis used a guide drawn up by the Papal Court at Avignon to help pilgrims go to Rome for the Jubilee, using the road normally used at the time between the two cities, crossing the Alps via the Montgenèvre pass and using the Via Francigena via Piacenza and Siena.
More details
spreadsheet | detailed map (45 placemarks)
External resources